In the studio: Storing recyclables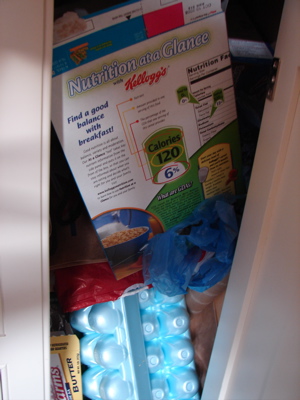 Deidre is doing a series of posts about her top things of 2007, and last week she mentioned that she was feeling some guilt about something I'd written:
"I have a friend who saves every paper towel roll, etc., for her boys' craft closet, and when she told me that, I did feel a pang of guilt. Then I read Camp Creek Press's post about creating a kid-friendly studio and felt even more guilt . Of course I also read Peter Walsh's It's All Too Much
last year, so I've found a compromise. I've given Aidan some space, where he can "collect" all the household found objects he wants for his creations---until the designated space is filled. Then you gotta use some before you add more. Because space is limited, even if buttons are not:-)"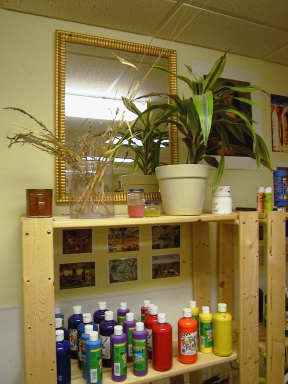 This made me laugh, because don't I know exactly what you mean, Deirdre! Frankly, all organization in the studio is a study in compromise, but recyclables are the worst. You may remember this picture.
It is easy to make most art supplies look beautiful: a clay mug filled with colored pencils, paint jars lined up in the sunshine, a wooden bowl filled with buttons. Ah, lovely.
It is much harder to make a pile of recycling look good. Also, it takes up an enormous amount of space in a classroom, where you are trying to keep enough materials on hand for more than a dozen children at a time. We solved that problem by filling an entire closet with recyclables on shelves.
In your home studio, you can keep less on hand at any one time. Honestly, any time you feel you are getting low on materials, you just have to save for a few days before you have a good pile going again. Unfortunately, it doesn't take much time at all to accumulate this much packaging.
The cabinet pictured up above is a holding area in the kitchen; we throw everything in there first. Later, we sort it out and carry it to the studio, where we try (I emphasize try) to keep it corralled in a couple of attractive baskets that, nevertheless, then look like attractive baskets filled with garbage.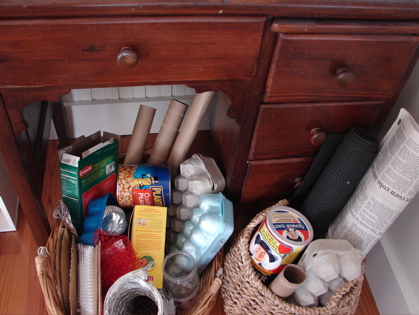 You can try to hide these materials inside cabinets, but out of sight, out of mind, and if your child can't see them s/he probably won't make anything with them. This may put a gleam in your eye, thinking about opening the cabinet doors only on rainy Sundays, but I have to stand tall and represent for the kids: better to keep things out and visible for frequent making.
You can try to nest materials; I know I do. In fact, I would say I excel at recycling tetris. I know exactly which brownie mix box fits into which macaroni box which then fits into the ... you get the idea. And small things like bottle tops and cupcake papers can be thrown into a very large clear plastic jar, the better to see what's available and keep things from spilling across the floor.
Kids digging enthusiastically for a robot foot or a bulldozer part, however, will probably not adequately recognize or appreciate the methodical way you packed the materials to fit in the least amount of space. And so it expands and contracts. If you crave organization (and don't we all crave it? even if we never achieve it?), this may make you slightly insane.
In conclusion, it's not easy to keep just the right amount of things on hand. Variety is good — a variety of materials to choose from and a variety of activities that are available every day. Old macaroni boxes and egg cartons aren't particularly attractive, but they can inspire beautiful work.