Art lesson: Contour drawing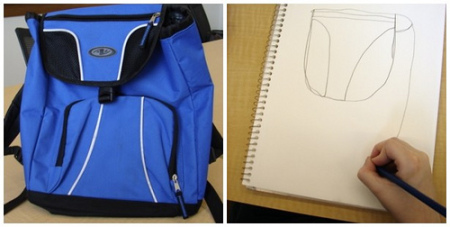 contour drawing by J, age 9
Last week we did some blind contour drawing, using a paper plate on our pencil so we couldn't see our paper — we kept our eye on the outline of what we were drawing and let our hand follow along.
We then followed up with a regular observational drawing. Our observational drawings are improving dramatically after just a few classes. The children are getting into the habit of looking for more detail before I ask them (nag them), "Do you see another detail you can add?" When they say "I'm done!", they really do have a mostly completed drawing to show me.
Blind contour drawing forces us to slow down and really look hard at the outline of what we're drawing; afterward, their observational drawings show how much attention they had given to the object they were drawing.
This week we tossed away the paper plates (metaphorically) and did some contour drawing.
Once again we started by talking about outlines. We drew backpacks during class, so I held up a backpack and had one of the students come up and trace and major lines with her finger while we all talked about it. Then we were ready to draw.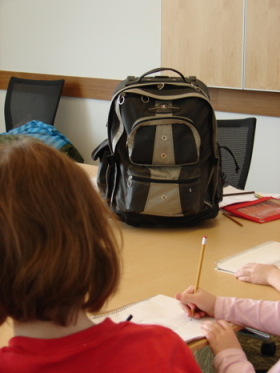 Instructions:
• Try to draw the outline of all the major parts of the backpack with one long line — no stopping and starting.
• It's okay to glance at the page to make sure your lines are going where they're supposed to go, but try to mostly keep looking at what you are drawing.
• This is not an observational drawing — don't stop and add details. Just keep going forward and outline the big/important elements.
• Your line needs to be strong and go straight ahead like a slow freight train — it's fine to draw over the lines that are already there.
• No coloring in or filling in — just do the outline.
• Draw big! Try to fill your whole paper.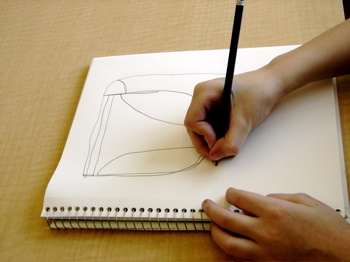 Since this is the first time we were doing this type of drawing, I did some "that's great, but let's start again on this side of the paper and this time..." encouragement as I walked the room.
I always tell the kids that sketching is practicing and we will usually put more than one drawing on a page. If they have an 8.5 x 11 sheet of paper and they are making a drawing that is about the size of a pack of cards, I will encourage them to just draw it again in an empty part of the paper. If they are drawing a large object very small, then I will ask them to try to draw it larger.
In the same vein, when I emphasize that sketching is practicing, I don't say or imply "you're doing it wrong" — I say "great, now do it again and change this or that". When they are doing an observational drawing of a small object, I flip it over or around so they can draw it from a different perspective. If they tend to draw very lightly, I might ask them to do another one with big strong lines. Sketching, I tell them, is about trying a lot of different things.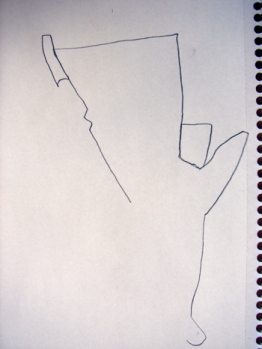 J, age 9, contour drawing, first attempt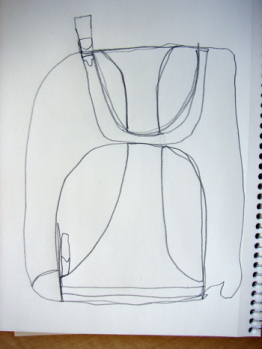 second attempt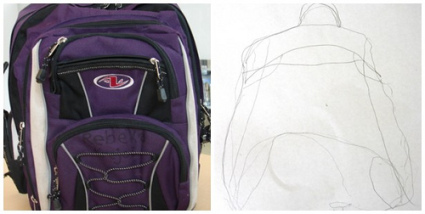 E, age 7, contour drawing
Contour drawing, like blind contour drawing, is about drawing the outline of something as it really looks. Many of the children made a first attempt, then we talked about the results, then they made a second attempt. Most of them needed at least two tries to figure out trying to draw the whole thing in one line. We talked about using an etch-a-sketch — how you just go over another line or through the empty part to get to the next thing you are going to draw.
Left to right: first attempt at contour drawing, second attempt, final observational drawing, by E, age 6
After we finished our contour drawings, we did an observational drawing. You can see the children used the information they gathered during the contour drawing to improve their observational drawings.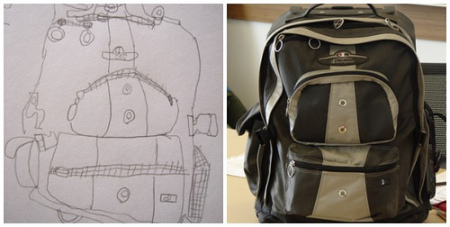 observational drawing by Jack, age 8
Related stuff:
Art lesson: Blind Contour Drawing
Art lesson: Observational Drawing