Educational goals and long-term thinking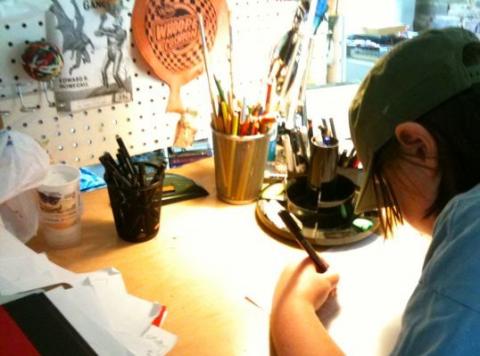 "If everything you do needs to work on a three-year time horizon, then you're competing against a lot of people," Bezos told Wired in 2011. "But if you're willing to invest on a seven-year time horizon, you're now competing against a fraction of those people, because very few companies are willing to do that." — The Jeff Bezos School of Long-Term Thinking @ 99U
Part of the problem with how we think about children and learning is our focus on very short periods of time.
If you prioritize a "well-rounded education," you have to preplan everything, label it, chop it up into smallish chunks, and then distribute it across the time you've allotted — usually a nine-month school year.
If you have to fragment your learning goals and pour them into your schedule first, then you will have a difficult time fitting in a self-directed, long-term project.
If self-directed learning is a goal, you have to fit that big rock in first. Set aside the idea of a nine-month "school year" and forget about artificially separating out subject areas (history, literature, science). Prioritize slow learning. Focus on holistic learning. Instead of requiring X amount of a certain subject area each week/month/year, measure it over a more generous period of time — say, two or three years. Look at your child's long-term project work (no planning ahead) and make your authentic assessment then:
What was read?
What was written?
What experiments were planned?
What knowledge was gathered?
What was built/created?
What was shared?
What habits were formed?
What learning was accomplished?
You may find your child is getting a balanced educational diet and requires very little adult-directed supplementation. But you won't know unless you try. And it requires a leap of faith: a belief that child-directed learning is complex, multilayered, and inherently multidisciplinary.
Investing in your child's education and taking a long view — giving them time to grow and develop interests, ideas, and plans over months and even years — allows your child to achieve something most schoolchildren never experience: deep, authentic engagement.
There are three levels of learning in project-based homeschooling:
- learning about our topic (primary)
- acquiring the skills we need to meet short-term goals (secondary), and
- developing the habits of mind that help us solve problems, communicate, think flexibly, and so on (tertiary).
One way we can help our children get to those deeper levels is by developing a long-term mindset toward meeting authentic learning goals.
The short-term, preplanned, fragmented form of education was created to fit a particular schedule. Once you break free from that schedule, you can hack that method of learning as well. Living a learning life means you have the freedom and time to fill it with something more meaningful.