Friday link round-up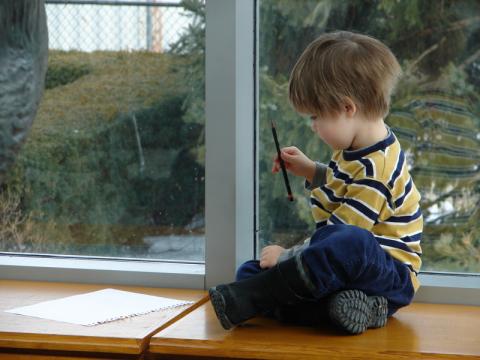 First, an important bit of news with apologetic overtones: If you've tried to leave a comment on my blog and were unable to, it's because one of our rotating captchas was broken. Mea culpa! I'm so sorry if this happened to you. It should be fixed now, so please — try again!
This week's facebook links:
So much great project-related stuff this week!
Small, simple changes make a big difference:
"I have been amazed at the creative projects which have already emerged — simply by moving the junk box into a more visible place, by removing the paint pots and glue from a box and displaying them on a shelf within reach, by laying out different types of paper on a visible shelf, and making sure tools such as scissors, sellotape etc are in a marked drawer to hand. Simple changes." — Project Based Home Schooling @ Organic Ed
Two posts from Lise this week about her three-year-old daughter's project work — inspiring and beautiful. In the first post, a long list of representations and project-related imaginative play:
I was preparing materials for the kids to paint something else, and she told me "I'm going to do something different. I'm going to paint Nerissa and Katryna." I asked if she'd like to look at their photo for reference, and photocopied it from their book. She cut around the photo and clipped it to the easel. ...

Pretended to be Nerissa in dramatic play, asking me to be Katryna.  "I like doing them.  I mean making — doing it with ourselves.  With our bodies." — Representing the Nields @ In the Purple House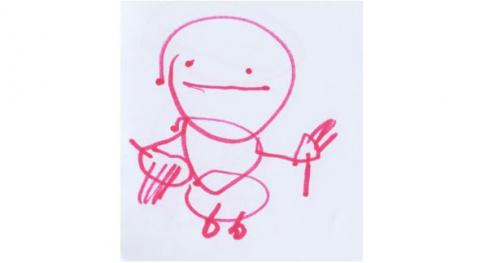 In this post, a whole series of beautiful drawings showing how her daughter progressed to including more detail:
At that point, Lucy told me that was all she wanted to write, but that she would fill up the rest of the pages with pictures.  And she began to draw Katryna and Nerissa again and again and again.

Now is when I hear the worried parents who've been in my classrooms over the years.  "All he does is play with blocks."  "If I left it up to her, she'd play fairies all day every day."  And to them, I say "what's bad about that?"  If only we can trust the value in what they choose to do!

On the very next page, Katryna suddenly had a neck, a body, legs, and feet (something Lucy's rarely done before)… — Multiple drafts are amazing! @ In the Purple House
If you are one of those people who struggle with understanding the value and purpose of authentic art in projects, you should definitely read this post:
I kept being pulled back to Reggio, but would always stop myself in my tracks at the mention of the "hundred language of children" which implied artistic activities.

I am a scientist, in my job and in my head.  Art was not something that was promoted when I was a child.  I have no problem letting my children explore art, contrarily to what my experience as a child was, but I don't feel like the best person to guide them through this since my limited experience and knowledge of arts.  X is not a very artistic boy either.  He is a very reality based child.  He is very creative in what he does, but not in arts per se.  How could Reggio work here?

But surprisingly, I have been able to find my niche in Reggio, or maybe what I do is Project based "homeshooling", (but truly, I do not think ones need to homeschool in order to incorporate that in their lives), it does not matter, I do not want to get stuck in semantics here.

What I didn't understand is 100 languages of children doesn't have to be limited to art.  You can find your own definition of a language, as long as somebody can express what they are learning, in a manner they are comfortable to. — Why we have incorporated Reggio in our lives @ Montessori Ici
If you've been participating in the Monday PBH for Grown-ups series, you may appreciate this post as you figure out your baby steps:
"My perfectionism makes it difficult for me to be self-compassionate. So, for this week, I tried to make small goals:

• I decided I would meditate for just five minutes a day.

• At work, I would take walk breaks for just five minutes, rather than always waiting until I had time for longer workouts.

... — Just Five Minutes
Amy started a great thread in the forum where we're sharing our baby steps each month. If you want some friendship and community while you make your way, come join us!
And if you're struggling with goals and baby steps, you might want to check out this classic Camp Creek post to remind yourself about the important context of why we're doing this work in the first place:
"How can we live our values? Our goals are tied irrevocably to our values. … Your goals and resolutions are the what. Your values are the why." — Goals, goals, goals: Expectations vs. reality
There's a bit of a theme with the last three posts — shaking off our wrong ideas about how the world works.
"The turning point for me — what made me stop being so nervous — was when I realized that these guys were just real people who decided to pursue their own passions. Something flipped in their brains, and they said, 'You know what? I don't have to work for someone else. I can go do this myself.'" — Trust Your Gut, Always
"They are all just people. Passionate people, confident and vulnerable, trying to figure out what to do next.

When I began to truly believe that no one knew what they were doing, I felt freedom. ... Here's to looking at the unknown as a big ball of opportunity." — No One Knows
Risk is a choice. A hard choice, and a choice that may fail. But a choice that we need to value, and to encourage. It's hard to turn down something comfortable. It's hard to turn down something good, in the hopes of something great. It's hard to be persistently unreasonable. But, all progress depends on it. — Risk Is a Skill
"Inspiration in my experience (I am not a doctor or philosopher — some say I am just a grumpy artist!) is nothing more previous knowledge and experience being deployed or used in a new way, i.e. creativeness. Inspiration comes when we furnish our brains with information about an issue or creative problem, leave it to; yes that's right, leave it alone and don't upset it or let others upset it. Your wonderful brain will work on the issue for you. It's important not to bother it too much, you can check how it's progressing but no more. Do give it more info about the issue if it asks for it. Before you know it the Eureka moment, the spark lights up and you are presented with a way forward." — Inspiration — don't wait for it!
I hope you don't wait for your inspiration this week — chase it down! And have fun while you're at it.
If you want to read these links throughout the week, follow me on facebook. If you want to chat, find me on twitter. If you're on flickr, you might want to join our new PBH flickr group. And if you want to see the learning, authentic art, and play ideas I'm pinning (as well as my secret love of VW camper vans), I'm on pinterest, too. Have a very specific question? Join the forum or e-mail me. Have a great week!