"How to Start a Project Group" + Friday Link Round-Up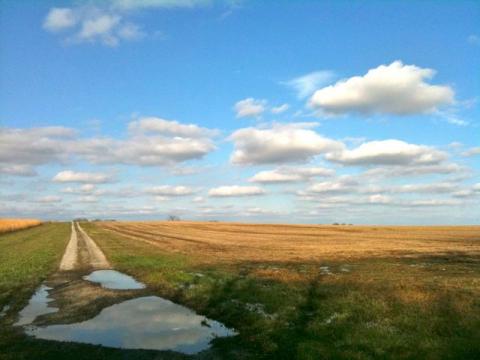 First news first, if you have any interest in starting some sort of project or PBH-related group, please check out "How to Start a Project Group" and let me know if you have additional questions/feedback. After everyone has had a chance to give input, I'll add any additional material and then make it available as a downloadable PDF.
And now, this week on Facebook…
I shared another post on how our kids may have to invent their own jobs:
"Today … because knowledge is available on every Internet-connected device, what you know matters far less than what you can do with what you know. The capacity to innovate — the ability to solve problems creatively or bring new possibilities to life — and skills like critical thinking, communication and collaboration are far more important than academic knowledge. As one executive told me, 'We can teach new hires the content, and we will have to because it continues to change, but we can't teach them how to think — to ask the right questions — and to take initiative.'" — Need a Job? Invent It @ The New York Times
We already quoted the same writer on the same subject back in 2011:
[The fastest growing companies in the world] are all looking for the same kind of people — people who not only have the critical thinking skills to do the value-adding jobs that technology can't, but also people who can invent, adapt and reinvent their jobs every day, in a market that changes faster than ever. — Invent, adapt, and reinvent
More of this kind of discussion here:
"What's needed most are a set of educational practices — whether in the context of the traditional liberal arts, a technical program, or something in between — that empower students to seek knowledge independently, to collaborate, follow their passions and to connect their knowledge with the real world." — In a Time of Change
If so-called "soft skills" are what employers will really be looking for, maybe artists will be highly valued:
"Many people see artists as shamans, dreamers, outsiders, and rebels. In reality, the artist is a builder, an engineer, a research analyst, a human relations expert, a project manager, a communications specialist, and a salesman. The artist is all of those and more — combined with the imagination of an inventor and the courage of an explorer. Not a bad set of talents for any business challenged to innovate in a world of volatility, uncertainty, and change." — Is an MFA the New MBA? @ Fast Company
Dawn pointed out this sounds like Dan Pink:
"The last few decades have belonged to a certain kind of person with a certain kind of mind — computer programmers who could crank code, lawyers who could craft contracts, MBAs who could crunch numbers. But the keys to the kingdom are changing hands. The future belongs to a very different kind of person with a very different kind of mind — creators and empathizers, pattern recognizers and meaning makers. These people — artists, inventors, designers, storytellers, caregivers, consolers, big picture thinkers — will now reap society's richest rewards and share its greatest joys." — Dan Pink, A Whole New Mind
I shared a couple of great posts this week on doing less so you can accomplish more of what matters:
"You can't please everyone. When you're too focused on living up to other people's standards, you aren't spending enough time raising your own. Some people may whisper, complain, and judge. But for the most part, it's all in your head. People care less about your actions than you think. Why? They have their own problems! However, when you do get the stink eye, it's because folks are jealous of the gutsy risks you take. They're too scared to look in the mirror and take action. Thicken your gorgeous skin and move on." — Do Less and Live More @ Positively Positive
And:
"[T]hinking, if done properly, requires uninterrupted focus… In other words, it takes time. And that time will only be available if you carve it out for yourself. Conversely, if you don't take the time to think proactively you will increasingly find yourself reacting to your environment rather than influencing it." — The Importance of Scheduling Nothing
This reminded me of one of my own posts:
Not only does your attention reveal so much of what is happening all around you, but it creates a dynamic that pulls your children in and feeds their desire to work. When you pay attention to their work, when you provide them with the space and materials they need, they respond by doing more of what you are paying attention to — your attention to what matters becomes a self-fulfilling prophecy.

 

Rather than praise or coercion, you are simply making space to focus on something. And your focus and attention are worth more to your child than all the praise and coercion in the world. So they are drawn to doing more of what earns your attention.

 

How do we begin? By clearing a space. — White Space as a Learning Tool
It's about being deliberate and intentional — dedicating time to your priorities.
And this one:
Refilling the well, being inspired, making connections, reflecting … these aren't things that are easily acknowledged and checked off a list. They need time — empty, unfilled, unscheduled time. White space.

Without the white space, there's no balance.

Rather than thinking about quantity — of ideas, of experiences, of work produced — we need to think about quality. Spending more time doing less, so we can do better and appreciate more. A single experience, really and truly had and understood, is more valuable than weeks and weeks of rushed, unconnected, random experiences. — White Space
As Randall Degges writes in this post, you might find more time by sacrificing something that doesn't matter as much:
"A great way to free up your time to work on something new is to give something up. Instead of optimizing every second of your day (which is do-able, but very difficult to maintain), I believe the better option is to make a sacrifice. … Instead of focusing on the killing aspect, I'll try to focus on how this is a good move for me right now, and how life's too short to focus on everything and accomplish nothing." — Sacrifice
You might have to practice some good quitting.
Some great PBH-related stuff to share this week!
Michelle wrote a great post about getting started with PBH:
"I think project-based learning is a natural way of learning, so in some ways we've always done this. When my oldest was two and was obsessed with dinosaurs and we came home with stacks of dinosaur books each week that she picked out … that was PBL (project-based learning). When we wanted to adopt a new dog and researched his breed and bought a book on teaching dogs tricks … that was PBL, too. It's all about finding an interest, feeding it, finding ways to dig deeper, and sharing what you learn. It's the kind of learning that attracted us (and many of you, I'm sure) to homeschooling in the first place. It's something we were already doing in small doses. We just shifted to doing more of it." — Project-Based Homeschooling Q&A: Getting Started @ Raising Cajuns
I loved what Sheri wrote about the big differences you can see from making small changes:
"As I sit here tonight, I wonder about what in our environment changed so that the latch could be lifted and the floodgates of imagination could burst open. Not that our house is void of imagination — I do recognize its presence daily. What was different was my place amongst all the scheming. I was no longer a passive participant, barely noticing the words and ideas making up the constant chatter that surrounds me. I was actively listening." — The day grand plans were made @ Rookie Homeschooling Mama
Carrie shared her three-year-old daughter's inspiring work on her snail project:
"Esmé's bug and snail knowledge is building, and her confidence as a young entymologist is blossoming too. She has a focus for her art, her photography, her writing, her research, her make-believe. It's not all snails and bugs at our house, but it definitely is an ongoing interest that results in knowledge acquisition in just about every subject that I can think about; math, writing, biology, history, art, literature, caretaking, sharing, cooperation, physics, empathy, and more.

Interest-led learning, brought to life." — Snails, season II @ Carrie Mac
And that's what PBH is — a child's intense interest provides a focus point for her learning so that everything comes together to make a layered, complex understanding. This is authentic, organic multidisciplinary learning!
Heather's kids do so many awesome projects — I love this post about how her daughter's sharing her work turned into an even bigger opportunity to contribute to her community:
Her source book suggested finding a place to "carry" her zine for distribution so on our next trip to the library, she asked the librarian if they would put her zine out for patrons to take. Our little library has had many staff changes in the last year, so we don't know these ladies as well and we weren't sure how the request would be received. Providentially, she asked the right person. She'd asked the new children's librarian who was delighted to carry The Artist's Palette at the circulation desk. … Additionally, the children's librarian asked her on the spot if she would agree to teach kids how to make Zines at the summer library program's craft hour. R is so excited about this! — Behind the Scenes, the World of Zines @ Blog, She Wrote
So much good stuff to share this week. Hope everyone has a great weekend!
Be a part of the PBH community. Project-Based Homeschooling isn't for only one kind of homeschooler — whether you're a classicist or a radical unschooler or somewhere in-between, all kids deserve some time to direct and manage their own learning while pursuing their deepest interests. Read the posts on project-based homeschooling. Check out the book. Look over the 10 steps to getting started with PBH. Join the forum. Chat with me on twitter. Follow me on facebook. See my pinterest boards on learning, authentic art, play, and more. Come make friends, get some new ideas, and brainstorm about your challenges.
"Children, even when very young, have the capacity for inventive thought and decisive action. They have worthwhile ideas. They make perceptive connections. They're individuals from the start: a unique bundle of interests, talents, and preferences. They have something to contribute. They want to be a part of things.

 

It's up to us to give them the opportunity to express their creativity, explore widely, and connect with their own meaningful work." — Project-Based Homeschooling: Mentoring Self-Directed Learners
"My children are thriving now where before I could see some struggling and frustration. It's been fun for me too! We learn and grow together now and there's nothing boring about our days." — newest review of Project-Based Homeschooling: Mentoring Self-Directed Learners