Making space for their ideas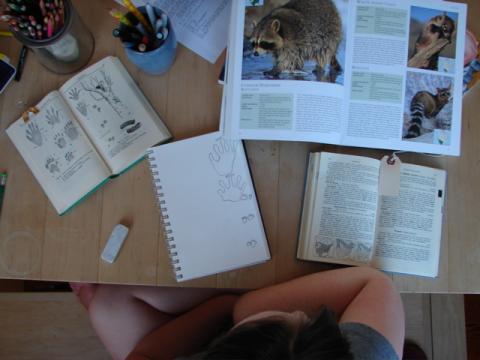 Researching raccoons
I observed and documented to find an intense interest. I was sure that I had chosen something that [my child] was really interested in. I asked if he wanted to study [this topic] and he was very excited about it. We brought home several library books, and I thought we were on our way. But then every time I suggested something that he could do, he wasn't interested. And then he seemed to stop being interested in [this topic] and moved on to [something else]. What happened? — K.
First, I want to say that project learning isn't easy. It is a learned skill. And the only way that you can learn it is to practice. Along the way, you are going to take some wrong steps — it's unavoidable! — but then you know what not to do to the next time.
A negotiated curriculum is a delicate balance.
You want to have as many as possible of those perfect moments when you see your child really immersed in learning, working at their challenge level, excited by what they are accomplishing, being joyful and engaged.
You have a lot of power in this learning relationship with your child. As the adult, you start out with all the assumed power. Until your child is confident that it is okay, he won't confidently take the controls and start driving the ship. And all along the way, if he senses that you are taking over, he will most likely just give up. And when he does that, his interest drains away.
Interest, motivation, ownership — these things are bound together. His deep interest is what motivates him to investigate and explore and work. His accomplishments give him ownership over the work.
When is a project not a project?
Your child has revealed or chosen an intense interest that you have decided is worthy of project study. You are ready to begin!
Your mind immediately begins to fill with all the cool, fun, interesting activities he could do — the neat places you can visit — the ways he could tie this topic to other interests.
Well, of course it does — because you are the adult. You are his learning mentor. You have tons of great ideas right off the bat!
But the goal is to make space for the child to have his own ideas.
Because that is the real point of project-based homeschooling — not to learn specific facts about his topic, not to create an impressive model to show Aunt Betty, not to fill his bulletin board with awesome sketches and photos. The real point is to help your child negotiate the ropes of
• exploring his own interests
• having ideas
• making plans
• overcoming mistakes
• connecting ideas
• communicating with others
and etc.
You can immediately see so much possibility in his project topic because you already know how to be a successful learner.
If you carefully observe and document to discover an intense interest, then start providing activities and plans, you aren't doing a project, you are doing a unit study — an interest-led unit study, but a unit study just the same.
And while you can accomplish a lot of learning in a unit study, it doesn't allow children the opportunity to learn to direct and manage their own learning. It doesn't allow them to experience the entire arc of learning, from the initial recognition of an interest all the way to becoming an expert who can teach someone else what they know.
Even suggesting activities and experiences takes something away from your child — the opportunity to have his own ideas.
Does this mean you never make a suggestion? You clam up and stay completely out of it? No. It means you very intentionally stay quiet and use the lightest touch possible. You try to be patient and allow your child to come along at his own pace. You see your child as capable of constructing his own knowledge, and you see your role as his mentor, helping him do the work he wants to do.
Remember that in this learning relationship, you want to allow your child to drive — while you sit beside him, supporting, encouraging, and being his first, best audience.
When he starts off boldly down a path that you are sure isn't going to work, you are patient and go along, allowing him to try his own solutions, because making mistakes is a valuable learning process, too.
When he is frustrated, you gently encourage him to try something else.
When he loses track of where he was going, you gently direct him back to his own forgotten questions and plans.
Your role is crucially important, but it is a supporting role. He is at the center, and the work he is doing is extremely challenging and sometimes overwhelming. Not the work of, say, building a model — the work of owning his own ideas, making his own plans, coming up with possible solutions to his own problems, etc.
If his light is going to shine, yours can't be so bright that his is indiscernible.
You model what it means to be a successful learner. You learn alongside him and demonstrate what it means to be really interested, to ask good questions, to be resilient and try again when you make a mistake, to be excited, to communicate your opinions clearly, to ask for help when you need it … the list of learning skills you have to share goes on and on.
You do these things because you have a clear goal in mind — helping him learn how to learn, not by doing assigned tasks, but by negotiating the process himself, with your support.
The more experience he gets in having ideas, making decisions, negotiating problems, bouncing back from disappointment, the more confidently he will approach his next project. Project learning is a learned skill — for children and for the adults who support them.
So, keep track of your ideas in your journal — all the cool things he could do, the great places you could visit — but remember that your primary goal is for him to have his own ideas and to help him carry them out.