Raising a person who will love what they do now — and later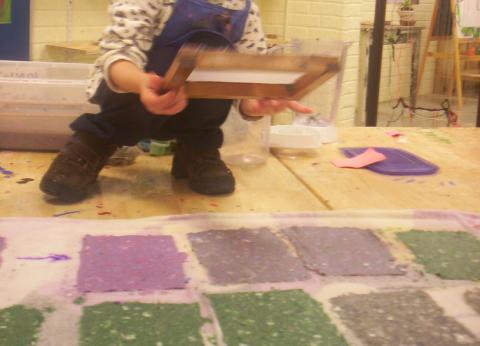 Some quotes from 10 Reasons Why Some People Love What They Do:
People who genuinely love their jobs … are in touch with that kid who loved to write, or tell stories, or envision amazing buildings. The important part: what these people are doing in their jobs now may not be (and usually is not) a carbon copy of those passions, but they're successfully integrated elements of those passions into what they do. In effect, they're energized kids with the seasoned perspective of adults — and that's a great place to be.
This is something that a lot of people struggle with understanding about letting kids seriously pursue their interests and passions. It's not about whether their kid will really end up as a LEGO designer or comic artist or paleontologist. It's about becoming a person who knows how to turn a passionate interest into something real. Once you know how to do that — once you know how to deeply investigate an interest and create original work, connect with other people, and express your own ideas — you can do it over and over again as you get older and your interests change and evolve.
[P]eople who genuinely love what they do don't allow others to talk them out of it.
When we push kids' interests to the side (to their slivers of free time) and tell them to concentrate on the curriculum, we're letting them develop a habit of getting talked out of what they really want to do. They learn to let go of the things they really care about. We should be doing exactly the opposite: teaching them to keep a tight grip on what they care about and not give it up. In fact, we should be helping them learn how to dig into it and pursue it with energy and purpose.
We have got to let go of our focus on the curriculum and start putting our focus on the learner. We need to help our children become expert learners. What you need to learn changes — what's important is your ability to learn. Part of being a successful learner is having tenaciousness and grit.
I have lost count, seriously, of how many managers I've watched try to talk a passionate person out of pursuing a path toward the thing that fulfills them.  The manager has a plan, and this person needs to fill a prescribed role in that plan, period.  But for a passion-driven person who loves what they do — or is trying to connect up with what they love to do — that plan will receive their deference for only as long as it takes them to navigate around it.
The adult has a plan and just wants the child to fill her role in that plan, period. What does the child want? She may agree to do what she's told, but really she's just biding her time to get back to what she really cares about. She saves her best effort for her self-chosen work. If we don't support that self-chosen work, we may never know what she's capable of. Worse, if we don't give her the time and support she needs to explore her interests, she may forget about them altogether.
When we can let go of our tight grip on the minutia of the curriculum and allow our children to define some of their own learning goals, we can move the focus where it should be: on helping this particular learner develop her particular skills and abilities inside the frame of her particular interests and talents. That's the education our children deserve.