Parent-child learning conferences: helping children set their own learning goals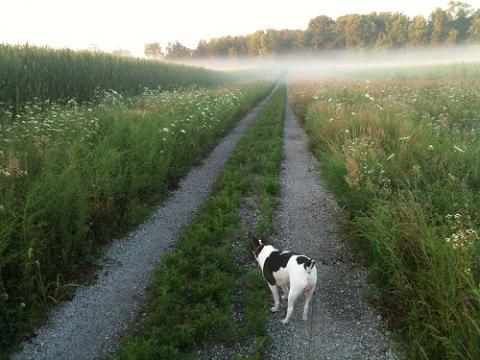 Project-based homeschooling fits with any other method, from full-on classical to radical unschooling and everything in-between. It simply means dedicating some of your time to actively supporting your child's self-directed work. (And technically it doesn't require homeschooling at all.)
Personally, we don't label ourselves as any particular kind of home- or unschoolers. I'm not into labels (and neither are my kids), and I rarely fit into a defined group. Project-based homeschooling is something we do, not something we are.
I've mentioned here on the blog (mostly in the comments, probably) and elsewhere on-line that we have biannual conferences with our sons to discuss learning goals and plans. Keep in mind our sons are now 12 and 15. This is how our learning conferences work.
Our "summer" lasts about six months — we start early and end late. The summer months are dedicated to personal projects.
Our "school year" begins around October. As each half-year begins to wind down, we have a conference to talk about plans for the next six months.
We discuss long- and short-term goals.
As parents, one of our goals is to have our sons ready for adulthood, and we want them to have their options open. We want them to be prepared to go to college or to be self-employed. (We're self-employed ourselves and we don't feel that our children must attend college.) Right now, one son is planning to go to college and the other is planning to be self-employed. We make sure they realize their plans might change with time and they should keep their options open.
So, we talk about our long-term goals for them and their long-term goals for themselves. We also talk about short-term goals: what they want to achieve over the next six months.
(We meet with each son individually.)
We ask them to reflect on skills they think they need to acquire or strengthen.
We ask, "Is there anything you think you need to work on?" When young children do project work, they will often notice a deficit and call attention to it on the spot. They see that they need a skill or ability they lack. "I need to know how to do this." Now that our sons are older, our biannual conference is when we take time to reflect on any lack they may have noticed or a particular skill they think they need.
Often, they focus on something they've had a nagging feeling about — something they don't think they know enough about (e.g., geography, learning a foreign language, learning how to cook more meals) or a specific skill they think they'll need to help them with their own work (e.g., learning to type or use a graphic-design software).
The conference becomes a sort of self-fulfilling prophecy. Because the boys know we'll be having that meeting, they are already thinking about how they're doing and what they need or want to learn. When you make it a regular habit to think about how you can improve your efforts and how you can accomplish your goals, you're more likely to do both.
We have them articulate their goals for their own self-chosen work.
A big part of why we pursue project-based homeschooling is because we believe building a foundation of strong habits will help our sons succeed at whatever they want to do in life. One of these habits is reflection: How am I doing? Am I achieving what I set out to do? Am I pleased with my own progress? Are there any specific problems I need to address? Do I need to set new goals? Do I need to make a change or improve something?
Every so often we stop to check our progress and make necessary changes. Every six months, we use our learning conferences to take the long view: looking back over the previous year and forward to the next … and beyond.
We agree on a schedule and a plan for the next six months.
Ours is a negotiated curriculum. Any non-project work the boys take on is to meet our shared goals: for example, making sure they're prepared for either college or self-employment. We come up with a plan for what will be done and a reasonable schedule to do it in. Around the holidays we'll make sure it's going well; if it's not, we'll make a new plan.
Note: We want the work to be rigorous, not the schedule. The majority of their time is spent on their own self-chosen, self-directed work.
We give the boys a lot of responsibility for managing their own work and schedule — but it doesn't always go smoothly. Learning how to get your work done without being micromanaged is a real skill, and it's built slowly over time. Mistakes help us learn.
They also talk about how they want to schedule their own project work. They apply the same habits to their self-chosen work as they do to their non-project commitments.
We talk about specific materials they will need.
A child can get much more out of researching by going to the library herself and selecting her own books rather than just looking through the basketful chosen by her parent. There is a whole other level of meta-learning when she makes a list of what she needs, talks to the library about where to find it, weighs her various options, makes her choices, then finds out whether those choices met her requirements.
A child can take be responsible for designing his own curriculum for his own self-set learning goal. He decides what he needs to learn and investigates his options for learning it: books, videos, on-line offerings, local classes and groups, mentors, field-work possibilities.
He can be given a budget for buying books and materials. (It can be a very small budget.) Now he needs to figure out what books he can get for free through interlibrary loan and which he needs to buy — and where he can buy them the most cheaply. Maybe he can post to a local message board and arrange to borrow some materials. He seeks out other people with similar interests and asks their advice.
In the end, he will learn about his topic, but he will also learn a tremendous amount by building his own curriculum and amassing his own learning materials.
We write it down and commit to it.
We commit to the plan, the work, and each other. We have a strong idea of what we'll be focusing on for the next six months, what we want to accomplish, and how we plan to achieve it. We're ready to go.
Note: Although this sounds serious when I write it all down, our learning conferences are quite relaxed and fun. No binders are involved. The bulk of our end-of-summer conference with the twelve-year-old occurred on the daily dog walk, thus the photo above!