Small Wins Wednesday: Authentic writing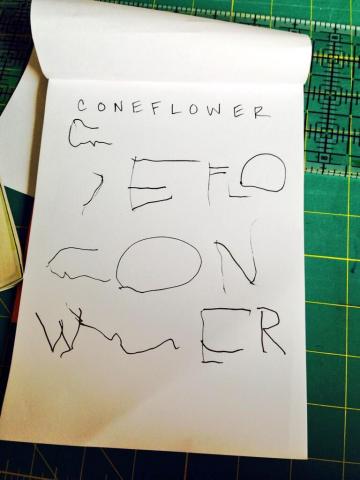 Kit (age 3) is now plowing through the old Birds & Blooms magazines so she can figure out what to plant in the garden. #butterflyproject #pbh
She is insisting on writing all of the flower names herself. — Sarah
• • •
Every Wednesday we share a small win from the forum, Twitter, the Facebook page, or (with the writer's permission) from the mail bag.
My 10 yr old has been between projects since his football project waned, possibly as a result of the season ending. A couple of weeks ago he was reading a magazine article on the seven wonders of the ancient world when he became inspired by the information about the creator of this list. He began thinking about making a list of his own. Great, I thought — until he said he would make a list of the top Mario games on his blog.

How did we get from the ancient world to Mario video games? My eye began to twitch as it always does when video games come up during project time, but I know enough now to not say anything and not to jump to the conclusion that he's just finding excuses to play games during project time.

He wrote his top 10 list and then decided, after getting his feet wet, he'd make another top 10 for the best galaxies in Mario Galaxy. He wrote this list over the course of three days. He researched other lists, watched videos of top 10s, and really considerd the best galaxies for his list and why they should make the top ten and their individual placement. By the time he was done, he had created a thoughtful and entertaining piece of writing that was also quite lengthy I might add (at least as long as any school report would be required to be and far more interesting to read). He had catchy openings and varied sentence structure and, although it wasn't very academic in topic, it was authentic and I could see a budding talent for writing.

Never could he or would he write anything so amazing on any topic I told him he must write on. He might squeeze out a few boring sentences to compliment a topic he deemed boring, but it wouldn't be anything close to this blog post on Mario. Even better, he came to me with his "to do" list one day so he wouldn't forget what he needed to do the next day! Now he's creating Mario pixel art. He's using graph paper for his designs and then building them in Minecraft. He's planning a post on that as well.

…

PBH can be hard, but I'm so glad I've stuck with it through all the struggles and doubts and difficult times. Both my boys have produced some amazing stuff in the last year, but I've had to see it with my fresh new PBH glasses. My old traditional school glasses would never have seen the value in all this work or even let it proceed. We would have missed out on so much! — Christi
Why do we share small wins? Because we put on our attention on what we want to grow. We support each other, celebrate each other's successes, and we make more of the good stuff!
Have you had a small win this week? Whether it's related to PBH or not, please share in the comments!