Small Wins Wednesday: Observational drawing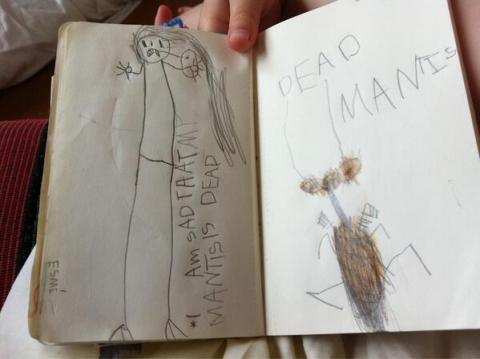 Carrie shared this photo of her daughter's project notebook on Twitter: "Notebooks aren't just for grown-ups! Love my kid's #pbh book."
• • •
Every Wednesday we're going to share a small win from the forum, Twitter, the Facebook page, or (with the writer's permission) from the mail bag.
Family field trip to the dam for their National Engineering Week event. For the first time packed clipboards and paper for sketching, per Lori's suggestions. To be honest, I thought they would just be something extra I had to lug around for five hours, but something utterly unexpected and utterly amazing happened. My son made five different sketches. Three of them were during the guided tour into the powerhouse where he had to sketch fast. I thought that would discourage him but it didn't.

Later he said his favorite thing was the sketching, although he amended it to second favorite. First favorite was going partially inside a generator.

Bonus: In an attempt to model sketching, I sketched my own version of the powerhouse generators. The ranger who accompanied the tour said to me, "You're BOTH artists!?" I looked at my *sketch* and had to chuckle. "Ya…ya…I guess we are." — Kat, from the current Master Class forum
Why do we share small wins? Because we put on our attention on what we want to grow, and we want to leverage those small victories. We support each other, celebrate each other's successes, and we do everything we can do make more of the good stuff!
Have you had a small win this week, whether it's related to PBH or not? Please share in the comments!