Boredom: The Lazy Parent's Strategy for Inspiring Creativity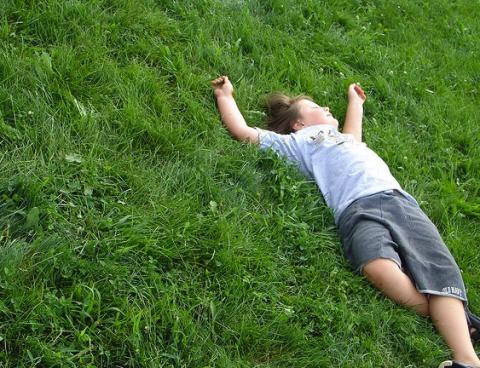 Here's how the standard line goes:
Kids need to be bored! They're over-scheduled! When we're not shuttling them from activity to activity, their screens are standing by to entertain them 24/7! Boredom is the answer!
Here's the thing, though. I'm never bored. Like, never ever. And before I wrote about this, I checked in with both of my kids.
Me: Are you ever bored?
Son: [Thoughtful pause.] No.
Me: Ever?
Son: No.
I asked the other son and his answer was the same. We talked it over and agreed: There aren't enough hours in the day to do all the things we want to do. And we're not talking about the kind of time most people have — just a couple of hours after work, after school, after dance/swim/soccer, after homework, and so on. We are people who have giant swaths of free time. Our schedule is as wide open as the Montana sky. We are the least harried family on the planet.
We still don't have enough time to do all the things we want to do.
Space + time + materials + experiences + skills = interests that spill over the edges of every day. My kids get up every day excited to do the things they want to do and they never run out of things they want to do. And we don't do any activities. And we schedule nothing.
So, sorry, but here it is:
Boredom is a really crappy, cheapskate answer to helping your kids develop creativity and authentic interests.
Boredom? That's what you're offering? You funnel immense resources into your child's education and planned activities. You pay for class fees, sports equipment, uniforms. You drive hither and yon. You spend all the really nice fall Saturdays sitting in a camping chair on an athletic field wearing a hat and sunglasses and clutching a large cup of coffee. You cheer from the stands. You pack the duffel bag. You buy everything on the supplies list.
But when it comes to that part of your child's life where they develop their own authentic interests, explore their unique talents, develop creativity, and learn to be self-directed — your contribution is a chunk of empty time and boredom. Huzzah!
No. Not huzzah.
Children need unscheduled time! Yes, they do. Unscheduled by someone other than themselves, that is. My thirteen-year-old just came to me a week ago and asked me to sit down and help him hammer out a schedule. He had so many projects he was juggling, he was starting to feel like he wasn't going to meet all of his goals. He wanted help building a schedule and he wanted me to buy him an alarm clock. The kid who doesn't have to get up and go to school wants an alarm clock so he can get up earlier so he can work on his own projects.
We sat down and worked out a schedule — a schedule that includes things like swimming, playing Xbox with his dad and brother, walking the dog, and playing badminton with me after dinner. There was even time to watch TV. "I didn't think I'd ever be able to watch TV again," he marveled.
So how do you get a kid like this? A kid who has all the free time in the world and is still thinking he won't have time to watch TV because he is so interested in pursuing his own projects?
We need a complete sea change in how we think about helping kids balance their scheduled time. It's not about teaching them to deal with boredom. It's about helping them connect with their own interests and ideas.
We pour all of our money, time, and energy into supporting kids' scheduled activities, but we don't invest anything in their "free time."
We want them to choose intellectual, creative activities — in general, we want them to choose higher-value ways to spend their time. But how do we support that?
Parents bemoan the fact that all their kid wants to do is watch TV and play Xbox. Yet the heart of their home is set up to look like a shrine devoted to exactly those two things. There's a TV the size of a twin bed and every chair in the room — the most comfortable chairs in the house, by the way — are arrayed around it in rapt devotion. The Xbox is nestled alongside.
When you compare that shrine to screen-based entertainment to the area of the house devoted to their child's other interests… Oh, wait. There is no area like that.
We invest time, attention, and resources in our kids' organized activities. Those, we go at with the energy of Henry VIII attacking a turkey leg. But when it comes to our kids' "free time" they're "free" to be bored out of their skulls until they are hit with an epiphany and realize they want to learn how to build and program their own robot.
In absolutely zero places in adult life do we take a group of intelligent people we want to encourage toward meaningful, worthwhile activities and say, "The key, ladies and gentlemen, is to get them really bored first."
It's only kids who are expected to be put in at the absolutely bare, gravelly bottom of the well and MacGyver themselves somewhere good. It's only kids who we cut loose like an untethered astronaut in deep space to "make their own fun."
Think about how often you wish you had some time to yourself. Now imagine that you get an entire afternoon next weekend to yourself, but you have to spend it in a hotel room where the TV and the Wi-Fi are broken and your phone has been confiscated. How do you feel now? Energized and excited about filling your time? If you get bored, maybe you could "weed the garden," "write a poem about your favorite pet," or "invent your own board game." Fear not —boredom is the gateway to innovation — necessity will lead you to fill that time and enjoy yourself!
Why do we think dance and soccer and tae kwon do need to be scheduled and organized, but creative play should happen all on its own?
Because it's not enough for children to develop interests outside of simple entertainment — TV, Xbox, Minecraft. We want more than that. We want them to really work for it. Like soldiers dropped in the middle of the jungle without a map or canteen to find their way back to base, they need to be given nothing and somehow make their way to an authentic, deep interest and onward to challenging, meaningful work.
Good luck, kids!
The whole "kids need to be bored" strategy is doomed from the start because it's a whiplash-inducing 180 from the way the kids spend the rest of their time — you can't flip the script from "totally scheduled" to "totally on your own" and not hear the scream of resisting gears.
To keep a child entertained and scheduled 95% of the time and then leave them naked and resourceless and expect them to use that time well (after going through the requisite period of boredom) is not the optimal way to teach a child to manage and fill their own time.
Boredom, rather than being an on-ramp to creative play and invention, is just as likely to be the on-ramp to passive consumption and a fear of empty time.
There's another way. It's cheating, I know, but we could actually invest in our kids' interests and abilities. We could maybe scale back from the twin-size TV to the crib-size and put that money into materials and tools. We could create a studio space for our kids — not a cobwebby basement or attic space that no one ever goes to because it's in the Siberia of the house, but a warm, central space that is as warm and beckoning as that plush faux-leather shrine competing for their time.
If a house does have a studio, it usually belongs to the parent. If there's a workshop, it belongs to the parent. The two spaces we typically allot to kids are their bedroom and the shared TV space. Anything creative is called "craft time" and the dining table is cleared off while it happens — but usually that table is covered with the detritus of life. There's no space that is always waiting for a child to build and create. There's no time set aside and protected so that making can be part of everyday life.
Does always-available electronic entertainment destroy a child's ability to create, design, make, and do? Not if they produce what they consume. Not if you feed and support their interests and give them enough time to take them further. Not if you don't limit the amount of time they can play so severely that they can only be a passive user.
They need time to achieve mastery and become a creator. But not just time — they need support. They need space. They need tools and materials. They need collaborators and cohorts. They need community. They need a parent who appreciates their interests and their efforts. They need a mentor.
They need the habit and routine of coming regularly to the space and to their own ideas.
We put all of our energy and resources into our kids' organized activities and trying to shore up their deficits. Anything that they do well, anything that interests them, we assume can be left alone to develop on its own. Are you crummy at reading and great at science? We're going to laser-focus on reading and cross science off our list of concerns.
When it comes to things our kids do well or things they care about, we figure that's something we can safely ignore. Why invest in something that's fine on its own? We give them the minimum — a chunk of free time — and go back to worrying about where they don't measure up.
One article I read recommended that we schedule boredom. I have a different idea: Let's schedule not-boredom. Let's schedule interest and excitement and creativity and experiences and meaningful work.
Championing boredom for kids doesn't even scratch the surface of best practice. We can do so much more than just leave a hole in their schedule where they can wallow. Boredom is the least possible amount of effort we can make in the right direction.
We can invest in our children's interests, abilities, talents, strengths, and ideas.
We can invest in their unscheduled time and flood it with tools, materials, collaboration, and support.
We can build a place in our home that honors making and doing, not just watching other people make and do.
We can build a family culture that celebrates meaningful work.
Give your kids too many bored afternoons and you run the risk of making them so fearful of empty time that they'll try to avoid it like the plague. Make it too challenging for them to discover the pleasure of making ideas happen and they may never discover it.
Compared to over-scheduling, boredom seems like a valuable anteroom to having ideas and doing higher-valuer activities — the first step down a path toward self-direction.
But boredom is the easiest, chintziest, least-effort-expended way for you to help your kids head down that path. And the return on your scanty investment is in no way guaranteed.
You can do better.
Give your kids a workspace — an art studio, a workshop, a lab for ideas.
Give your kids a block of time devoted to making and doing — and protect that time. Make it one of your big rocks. Honor it. Invest in it. Give your child's interests at least the same level of attention that you give soccer and tae kwon do.
Give your kids an example to follow. Don't just send them off to do something that you yourself never do. Live the life you want them to live. Work alongside them and become a family of doers.
Forget about boredom and become the kind of people who are never bored, because there just aren't enough hours in the day to do all the things you want to do.