A writing place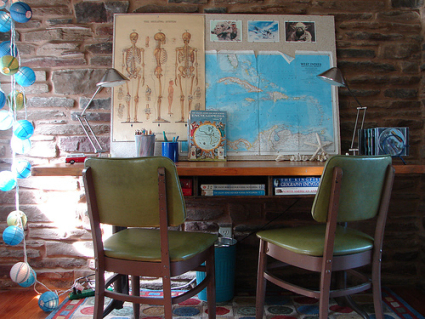 As the twig is bent, so grows the tree. Or so the saying goes.
We want to encourage reading, writing, and drawing as daily activities, so we purposefully have several spaces that are very inviting for curling up with a book, drawing a picture, or writing a letter. (Or, this week, drawing a comic book.)
In preschool and Kindergarten classrooms (and sometimes, if you're lucky, older grades), there are usually "writing centers". Sometimes these areas are a bit school-ish (institutional) and perhaps big enough for several children.
A great writing space is big enough for two children to work side-by-side, so you can work with a sibling or a friend. You can use a thrift-store or garage-sale desk or table and stock it with all the things you would find in a regular desk: stationery, envelopes, stamps (blank labels cut into squares can be decorated by the sender), address book, etc. We like old-fashioned rubber stamps. And writing isn't only about mail -- we always offer small handmade books with decorative covers (the easiest of these are just folded and stapled copy paper), clipboards for taking surveys and doing pretend office work, and etc.
Even the smallest space can fit in a tiny corner for a desk that will beckon to children to sit down and write a letter, a poem, a book .. or a comic book. And small spaces are nice, even when you have a lot of space to work with. There's nothing like a cozy nook to draw children in, whether it's a single floor cushion half hidden behind a curtain for reading or a tiny desk with cubbies stuffed full of found papers and office supplies for writing.
soulemama's corner of my home: his desk
little birds' new drawing corner