Sharing our work: Observational drawings
Some readers doing the art lessons at home have been kind enough to share their experiences and their photos — thank you!!
It is impossible to overstate how encouraging it is hearing back from people using the website. Thank you!
In addition, at Molly's suggestion, I started a flickr group: Camp Creek Art Lessons. If you are on flickr, come and join the group and share your photos!
If you would like to share your story/photos here on the blog, e-mail me or let me know in the comments!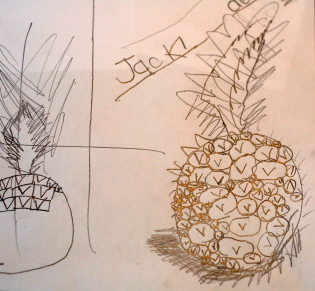 by Jack, age 7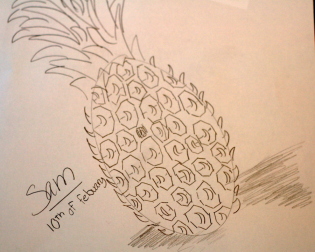 by Sam, age 11
Jill:

We sat down together Sunday night and drew a pineapple. There was only a slight grimace from Mr. Perfectionist, and then I never heard another negative word about it. It actually was freeing, and as I think you mentioned already, it made us move forward instead of obsessing. After 15 minutes we each had a fully drawn pineapple--the first drawing in what I hope will be a book full of them. It's true what you said too, about the talking. There was quiet concentration and soft words. It was a beautiful experience.

Thank you! Thank you! Thank you!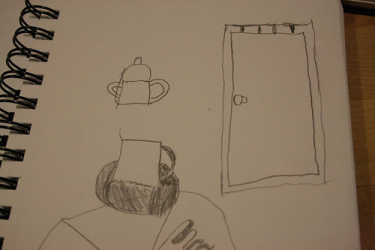 by Avery, age 7
It was magical! My daughter was resistant as she is not confident with her drawing skills, but she did a wonderful job. We started out with a small mug, then she progressed to drawing the laundry room door with all the details. Aidan had fun too, and when he was ready to start drawing from his imagination, I switched him to some plain paper. He ended up drawing little heart people and asked me how to write, "Once upon a time there was a boy named Aidan" - the longest sentence he has ever written! It was amazingly quiet while we were all busy drawing. I can't wait to do it again.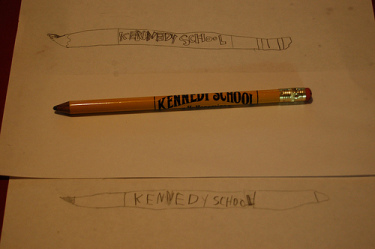 This is great. it is exactly what my girls 'live draw' class is on monday nights … it is inspiring me to have them do some observation drawing with me tonight. i will enjoy taking the time to do it myself as well … haven't done that in a long time. thank you thank you!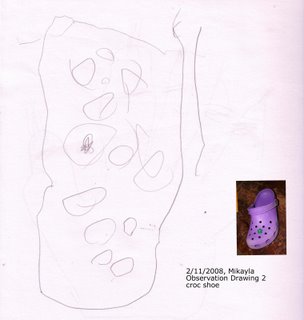 by Mikayla, age 4
She put more detail into the drawing than I ever thought she would. We both noticed so many things … that we had not before. I drew along with her and she pointed out aspects … that I had not noticed. We then pointed out various other aspects for each other as we drew.
Thank you so much for sharing your stories!
Related stuff:
Art lesson: Observational Drawing
Benefits of observational drawing
Observational drawing with the young and/or reluctant: tips
Observational drawing: Musical instruments
Observational drawing: Where do we go from here