Visiting the museum with children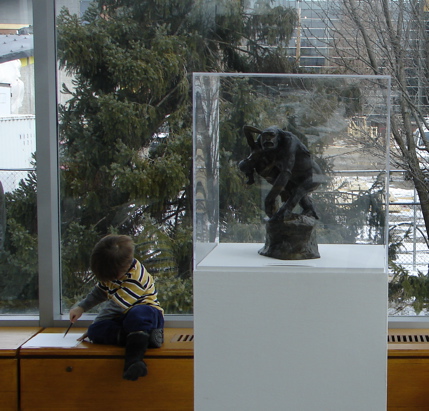 This week I took my homeschool art class to the museum to draw.
We walked around and looked at some of the exhibits, then we headed for a part of the museum with a few large bronze sculptures that the children could touch.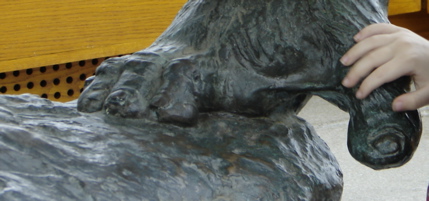 We sat down and drew.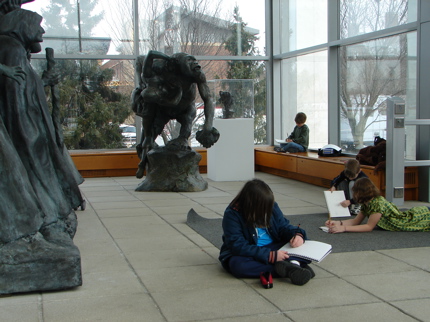 First: contour drawings. Choose a spot. This is your perspective. Draw your contour.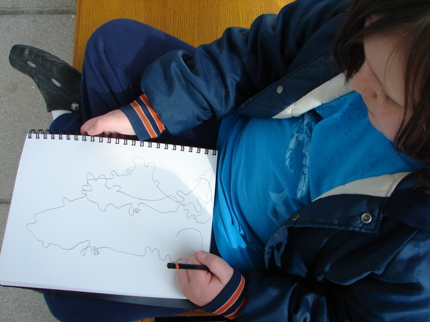 Contour drawing helps us slow down, pay attention to the way things really look, and gets our hand used to drawing what our eye sees.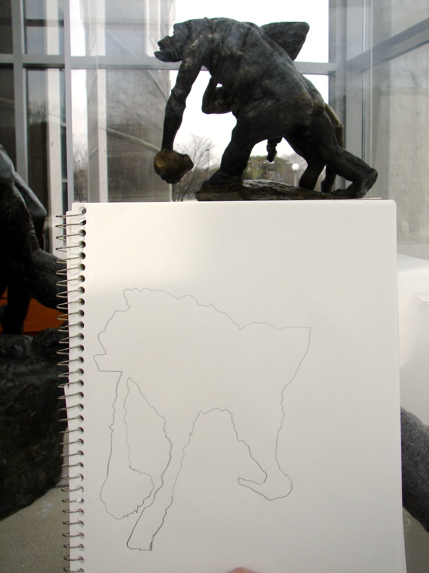 When we had produced a contour drawing we were happy with, we moved on to doing an observational drawing.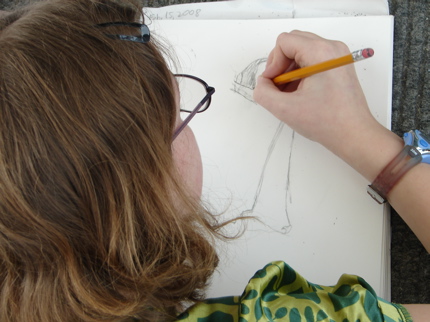 The sculptures were very large. Some children drew the whole sculpture,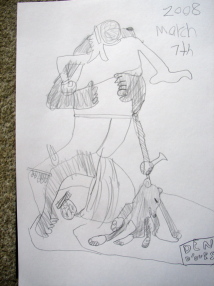 but most concentrated on a particular part. It's best to start with your favorite detail and then, if you have time, you can sketch in the things around it.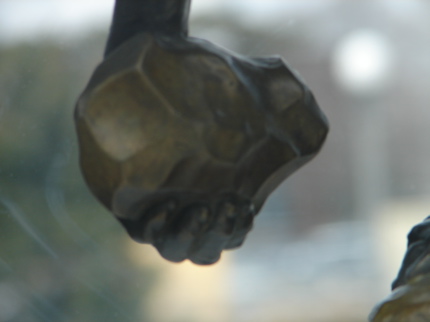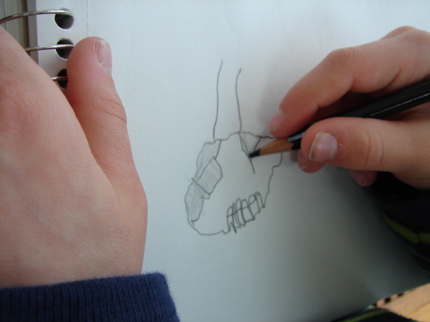 My tips for visiting the museum with children:
Take your time.
Choose one spot to concentrate on and branch out from there if you have time. (Just like drawing!)
The experience is more important than how much of the museum you see. (Process over product!)
Be clear about the rules (no touching walls or artwork, etc.) — discuss them before you go, and take time before you start browsing to discuss them again.
Talk about what you see together! Model asking good questions, and model looking for answers. Wonder aloud. Read signs. Ask questions of the museum staff.
Prepare before the visit. Talk about what you might see. Wonder aloud together. You don't need to tell them everything — you can talk about it afterward, comparing their expectations to what really happened.
Bring a notebook and pencil, even if you aren't there to draw, for note-taking. Get your child in the habit of drawing and making notes about important things he or she sees — to share later with another parent or family member, perhaps. (Or your dog — dogs love art.) Even pre-readers can make notes that they will be able to refer to and "read back" later.
Pick up free brochures, exhibit cards, etc., at the desk for your child to add to her notebook later at home.
Talking about the visit beforehand, taking your time, taking notes, reliving it later at home — all of these things add up to a more fully realized, more meaningful experience that they will remember for a long time. Reflecting on the experience deepens their understanding and exponentially increases their learning.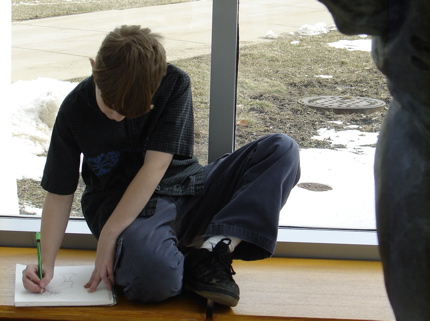 My tips for drawing at the museum:
Pack light. Small bag with notebooks, pencils, enclosed pencil sharpeners, white erasers.
Choose your drawing spots carefully, to be out of the way yet not against a wall, with a good view of what the children want to draw.
If children will be sitting on the floor, make sure they can see their subject clearly from there.
Often the large, touchable sculptures are either in the entry, near the entry, or off in an alcove. Go to the front desk and ask if there are any large sculptures or other exhibits that can be touched.
Concentrate on plain pencil and paper. Later, after a good deal of drawing practice, consider adding colored pencils. (Color tends to distract when children are initially building their skills.)
Take photographs of what your child is drawing, from their perspective.
If you have been following along with these art lessons, try a contour drawing first. It can settle a child into working quietly and purposefully, and their observational drawings will reflect this preliminary attention to outlines.
Go back! As I've said before, there is beauty in repetition. If you make the museum a familiar place, it will be easier for your child to settle and enjoy drawing there rather than chomping at the bit to see more. Take your time and walk around for awhile before sitting to draw (and there will always be new exhibits, even if you've visited before). Don't be afraid to do the same thing over and over — it's how we grow.
Related stuff:
Art lesson: Observational Drawing
Benefits of observational drawing
Observational drawing with the young and/or reluctant: tips
Sharing our work: Observational drawings
Observational drawing: Where do we go from here
Art lesson: Blind-contour drawing