What I've been reading: The kickback again passion and grit and why they both still matter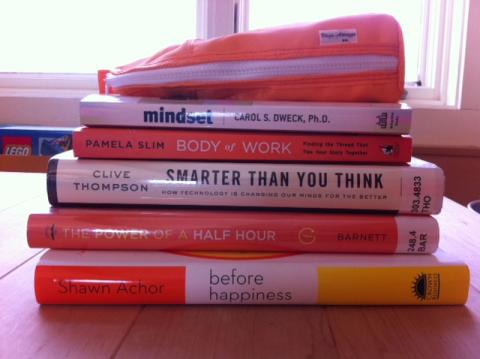 "If you want to internalize a piece of knowledge, you've got to linger over it." … "Evidence suggests that when it comes to knowledge we're interested in — anything that truly excites us and has meaning — we don't turn off our memory. Certainly we outsource when the details are dull … [b]ut when information engages us — when we really care about a subject — the evidence suggests we don't turn off our memory at all." — Smarter Than You Think
I shared this teacher's open letter to Google on my facebook page:
Dear Google,

I wish you'd talked to teachers like me before you made that $40 million investment in Renaissance Learning.

I've seen the damage Accelerated Reader can do.

I witnessed it for the first time when I tutored a struggling 5th grader…eighteen years ago.

He hated to read.

He hated being locked into a level.

He hated the points associated with the books.

But more importantly, he was humiliated when he didn't earn enough points to join in the monthly party or get to 'buy' things with those points at a school store full of junky prizes.

I've seen kids run their fingers along the binding of a book, a book they REALLY wanted read, but then hear them say, 'But it's not an AR book,' or 'It's not my level.'

I've watched them scramble to read the backs of books or beg a friend for answers so they can get enough points for the grading period.

And I watched it slowly start to unravel S's love of reading. — Dear Google, You Should Have Talked to Me First
I have strong feelings about kids being allowed to choose their own books and given time to read for pleasure, and I have seen both teachers and librarians tell school kids at the public library to put their books back because they weren't allowed (graphic novels) or weren't the right level.
Short version: Kids benefit from reading both above and below their level.
Above (for example, if you let them check adult research books out of the library that you think are way too difficult for them), they have to employ decoding strategies, they have to search for what they can read and understand, they have to wrestle with unfamiliar vocabulary, and so on — they're challenging their skills. Below, they can read a favorite book over and over again and become fluent at reading it.
In both cases, they are making choices from a place of true engagement and desire. That is a path toward using reading for pleasure *and* purpose.
In both cases, they feel great about themselves. They feel great about tackling and making sense of a book that's "too hard for them." They feel great about completely mastering a book and finding it really easy (and they remember when it was hard).
When we narrow kids' choices to something that we have chosen for them, we are doing more than just killing their opportunity to enjoy reading for pleasure. We're putting them in a place where they can't win. If they read a book well, it's because we chose it and it's exactly calibrated to their "level." If they don't read it well, they're failing at something we thought they could do. Instead of multiple opportunities to engage with books and feel like a winner, they get to feel either "adequate" or "inadequate." That's it.
(More posts about kids and reading: Reading and In defense of reading … which should need no defense.)
We can't *teach* kids to love reading, but we can certainly do our best to allow them to develop a love of reading. We can let them choose their own books. We can give them a book allowance. We can make sure they have free time to read every day, and we can make sure we don't pit books against the other things they love.
All of this boils down to: We don't think it matters whether the kids are interested or not. We just don't care.
There's a kickback against passion these days (personally, I think it's just a "let's go against trend" scheme), but thinking passion doesn't matter isn't new — parents and educators have been saying it for decades. Adults think they can teach kids how to work hard by forcing them to work on something they don't care about. Do they think kids will love to read if they do well on the language arts section of a standardized test? Love can't be forced. You have to create the circumstances in which it can bloom and grow. You have to actively try to not crush the life out of it.
There's also a kickback lately against grit (see here and here, for example) — people are saying that it's all well and good to say kids need to be gritty, but privileged kids start out way ahead of the pack and it's unfair to tell the other kids that their failure is because they weren't gritty enough. Insult to injury, etc. But pay attention to this part of Alfie Kohn's criticism:
Challenge — which carries with it a risk of failure — is a part of learning.  That's not something we'd want to eliminate.  But when students who are tripped up by challenges respond by tuning out, acting out, or dropping out, they sometimes do so not because of a deficiency in their makeup (lack of stick-to-itiveness) but because those challenges — what they were asked to do — aren't particularly engaging or relevant. — Alfie Kohn
and
A second explanation for students' not rebounding from failure at what they were asked to do is that they weren't really "asked" to do it — they were told to do it:  deprived of any say about the content or context of the curriculum.  People of all ages are more likely to persevere when they have a chance to make decisions about things that affect them.  Thus, the absence of choice might be a better explanation than a character defect for giving up. — ibid.
In other words, authentic interest and engagement matter. Authentic choice and autonomy make a difference.
Personally, I don't see Duckworth's or Dweck's work being about character defects or criticizing kids — their work says that these are attitudes any person can develop. Message: Your fate isn't set in stone — you can improve if you work hard. It's about helping kids see themselves in a way that helps them develop a growth mindset. I do think cultivating a growth mindset is beneficial for all kids (and adults) — but I agree with Alfie Kohn that kids have to actually care about the work first. It does no good to try to force kids to be gritty and focus on growth if they don't care about what they're doing.
And Angela Duckworth knows that:
"This quality of being able to sustain your passions, and also work really hard at them, over really disappointingly long periods of time, that's grit." — Does Teaching Kids to Get "Gritty" Help Them Get Ahead? (NPR)
and
"I don't think people can become truly gritty and great at things they don't love," Duckworth says. "So when we try to develop grit in kids, we also need to find and help them cultivate their passions. That's as much a part of the equation here as the hard work and the persistence." — ibid.
You can't throw out passion. You can't throw out authentic interests. They matter. Put learning in the context of what kids actually care about and helping them become master learners is a million times easier.
The importance of a child's authentic interest cannot be overemphasized. Without it, learning is like pushing a boulder uphill. With it, we're pushing the boulder downhill. Note: Learning occurs in both directions. So why do we usually go with the uphill option? — Project-Based Homeschooling: Mentoring Self-Directed Learners
Things I get tired of in education:
- Calling new ideas "fads" as a way of dismissing them. We can't afford to dismiss useful new ideas.
- Grinding good ideas into jargon and liberally applying said jargon to the old way of doing things (cough PBL cough).
- Pitting ideas against one another, as if education is one long cage match and we're only allowed one winner.
Today's take-away is this: No matter what else is happening in any learning environment, it's always going to work better if the learner is authentically interested and engaged. You can keep pinging content at them, but as that quote way up top makes clear, if they aren't really interested, it's not going to stick. If you really want to help kids figure out what they're capable of learning and doing, start in the area of their deep, authentic interest.