What I've been reading: The ROI of meaningful work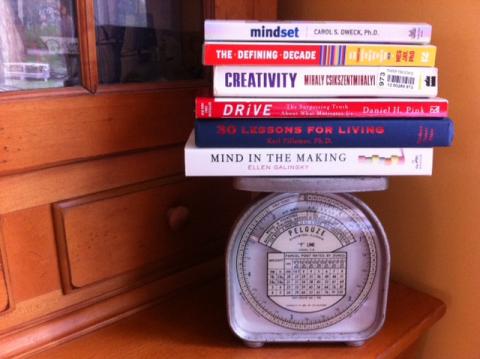 Last week we talked about passion, hope, and Good Work. Let's contrast that with the following.
It's all about the money, honey:
Everybody graduates from college with a major. So I wanted to know not just which college grads get richest but which college majors are the tickets to richness?

…[I]t's important to not conflate "highest ROI" [return on investment] with "best" or "smartest." At Columbia University, an arts major has a 20-year expected return of $477,000, but an economics major at the school earns an extra $900,000 and a computer science major gets $1.6 million. Perhaps another study can prove that Columbia's economics majors are twice as smart as its art majors. But the more reasonable explanation is that economics majors actually want to maximize their earnings after graduation. So they tailor their education to set them up for maximizing post-graduate income. — Which College — And Which Major — Will Make You Richest?
Before you choose your major, kid, read articles like these (here's another one and another one). Then major in computer science — that's where the money is! (Because a college education is a job placement program, not a foundation for a lifetime of learning, duh — get with the program!)
One, if every single person enrolls in computer science, then who's going to be getting the available jobs when there are a glut of software engineers? The people who don't really like coding and are just in it for the money? Or the people who really love it?
Two, even if you can get a job, if you don't really like coding (and as a result you probably aren't great at it), is your paycheck going to make up for the fact that you don't enjoy your work?
The thinly veiled suggestion that you should pressure Junior to major in CS violates at least two of the three tests for Good Work that we discussed last week: Does it fit your values? Possibly, if your values are about making the most money possible. Is it excellent work — are you highly competent at what you do? Not if it's not what you really enjoy. Does it bring joy? I'm going to say no — you don't really enjoy, so there goes your joy, and I'm guessing you aren't going to produce work that makes anyone else feel joy, either.
When I read these articles I get the sense that the underlying message is that work sucks so if you have to work, you may as well make as much money as possible. This is a very common mindset among adults.
The young people who follow this advice will probably end up spending their big salary trying to make themselves feel better about a life that makes them miserable, a life they chose because they wanted a big salary.
Alan Watts, save us!
[I]t's absolutely stupid to spend your time doing things you don't like in order to go on spending time doing things you don't like and to teach your children to follow in the same track. — How to Do What You Love
Some people love computer science and they get to do what they enjoy and make big bucks — good for them. (The fact that we pay 20-something software engineers more than experienced teachers is a whole other subject.) But a good test for Junior would be: Would you do this job even if it paid much less? If the answer is no, maybe you should think hard about that.
Going to college seems to be the most talked-about subject among people with kids around the same age as ours. And by now we've heard plenty of stories feeding fears that your child will be left behind, will miss out on the best education and, therefore, will see his life ruined before it even begins.

…[M]y son and I found ourselves sitting in the well-appointed office of a man asking what my son wanted to do with his life. "I have no idea," my son sighed, in the same tone I used when I was that age to answer annoying aunts. How could anyone know? Albert Einstein had no idea he would one day become Albert Einstein.

"Well, what are your interests?" the counselor asked.

His interests range from learning more about the stars to studying card tricks, from a fascination with the idea of infinity to playing Xbox. Afterward, the consultant said: "Your son has to learn to focus more. He is just drifting through life." — April madness: The problem with American college admissions
Drifting through life! The irony is that the teen years could be so rich for exploring interests and talents (and doing real, meaningful work) but we stuff them with so many hours of school, homework, and extracurricular activities (all the better for your college application!) that kids don't know who they are or what they want to do. Then we complain that kids aren't applying themselves. Not only are you supposed to be busy 24/7, stressed and exhausted, but you're also supposed to figure out which STEM career you want.
By the time they reach an age to think about what they'd like to do, most kids have been thoroughly misled about the idea of loving one's work. School has trained them to regard work as an unpleasant duty.

…If you take a boring job to give your family a high standard of living, as so many people do, you risk infecting your kids with the idea that work is boring. Maybe it would be better for kids in this one case if parents were not so unselfish. A parent who set an example of loving their work might help their kids more than an expensive house. …

The test of whether people love what they do is whether they'd do it even if they weren't paid for it — even if they had to work at another job to make a living. How many corporate lawyers would do their current work if they had to do it for free, in their spare time, and take day jobs as waiters to support themselves?…

With such powerful forces leading us astray, it's not surprising we find it so hard to discover what we like to work on.

Most people are doomed in childhood by accepting the axiom that work = pain. Those who escape this are nearly all lured onto the rocks by prestige or money. How many even discover something they love to work on? A few hundred thousand, perhaps, out of billions.

It's hard to find work you love; it must be, if so few do. …

[T]he way to do great work is to find something you like so much that you don't have to force yourself to do it — finding work you love does usually require discipline. …

Finding work you love is very difficult. Most people fail. Even if you succeed, it's rare to be free to work on what you want till your thirties or forties. But if you have the destination in sight you'll be more likely to arrive at it.

If you know you can love work, you're in the home stretch, and if you know what work you love, you're practically there. — Paul Graham, How to Do What You Love
I've shared this ancient editorial before (read it all here):
I see many teens of means with few interests and little idea how to pursue those mild passions they do have. Ironically, many are successful academically. Rarely, however, is their success driven by a quest for knowledge. Rather, they tie academic achievement to eventual financial success. — "The Dangers of Privilege and College Admission," by college consultant William Caskey
The purpose of education — apparently it's all about income. Shouldn't it be to help people connect with their purpose?
Most people don't know their real talents because Education hasn't helped them find it @SirKenRobinson #CEISummit14

— JackieGerstein Ed.D. (@jackiegerstein) April 17, 2014
Last week we talked about the fourth-grade slump and how by third grade (we're accelerating that slump) kids are starting to disengage and lose their self-motivation.
Recently I went to hear a concert played by the orchestra at our local high school. It was beautifully done, Beethoven's "Eroica" Symphony, at a near-professional level. But it was strangely joyless.

It wasn't until I attended my daughter's middle school band concert, with all its toots and missed notes — amid raucous laughter from the musicians — that I knew what was missing.

The American education system in general, and the college admissions process in particular, seem intent on creating cautious, careerist adults-in-training. — April madness: The problem with American college admissions
Cautious and careerist. Oh yay.
When I compare last week's post with this week's, it takes me about a nanosecond to choose Good Work as what I want for my sons over "which college and which major makes you the richest." I want more for them than a big paycheck; I want them to have a Good Life. We already know what that entails. We already know what matters, we just don't choose it.
In a study led by Derek Isaacowitz, we found that the capacity to love and be loved was the single strength most clearly associated with subjective well-being at age eighty. — Martin Seligman, Flourish: A Visionary New Understanding of Happiness and Well-Being
In an interview in the March 2008 newsletter to the Grant Study subjects, Vaillant was asked, "What have you learned from the Grant Study men?" Vaillant's response: "That the only thing that really matters in life are your relationships to other people." — Is There a Formula for a Good Life?
What's a really terrible idea when planning your future?
You know those nightmares where you are shouting a warning but no sound comes out? Well, that's the intensity with which the experts wanted to tell younger people that spending years in a job you dislike is a recipe for regret and a tragic mistake. There was no issue about which the experts were more adamant and forceful. Over and over they prefaced their comments with, "If there's one thing I want your readers to know it's…" From the vantage point of looking back over long experience, wasting around two thousand hours of irretrievable lifetime each year is pure idiocy. — 30 Lessons for Living: Tried and True Advice from the Wisest Americans
What makes for a rich life, in every sense of the word? Relationships. When do you start that particular education? At birth.
[A] loving childhood is one of the best predictors of mid and late-life riches: "We found that contentment in the late seventies was not even suggestively associated with parental social class or even the man's own income. What it was significantly associated with was warmth of childhood environment…" — What makes for a good life?
When you think about the advice you will give your children about their future — should you advise them to invest in the biggest salary they can get, or should you advise them to invest in their interests and signature strengths?
From The Top Five Regrets of the Dying:

1. I wish I'd had the courage to live a life true to myself, not the life others expected of me.

2. I wish I didn't work so hard.

3. I wish I'd had the courage to express my feelings.

4. I wish I had stayed in touch with my friends.

5. I wish that I had let myself be happier.
If you end up at 18 with absolutely no clue about what you care about, who you are, or what you do well, perhaps it's not surprising that you get in line for the job with the highest income.
If, as an adult, you think work is a necessary evil — if you've never found your own meaningful work — then perhaps it's not surprising if you advise your children to get in that line.
Many people are caught in this cycle, choosing money over meaning, then advising their children to do the same. And what a self-perpetuating cycle it is:
[O]ur studies suggest that children from the most affluent families find it more difficult to be in flow — compared with less well-to-do teenagers, they tend to be more bored, less involved, less enthusiastic, less excited.

Our research suggests, for instance, that more affluent teenagers experience flow less often because, although they dispose of more material possessions, they spend less time with their parents, and they do fewer interesting things with them. — Prerequisites for Happiness
What's the return on investment for deep interests, meaningful work, and making a real contribution to your community? It might not be the biggest paycheck. But I do think it's the path to a more satisfying life.