Curating their experience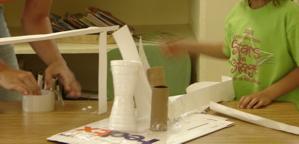 A response to Real Hands-On Learning:
This part makes sense. I get making an environment that my child can feel free to explore and move in new directions and try things. But when do you rein things in? I know 4 is young but sometimes I feel like we just try lots and lots of things without sticking to any of them. Our small pile of unfinished projects makes me squirm when I walk by it.
How do you balance the freedom to try things with creating a calm 'space' for exploring things deeply? Maybe it's just summer but I feel like we're at a life buffet lately and we keep taking little tastes. — Stacey
Our mission is to integrate two big ideas:
1 - children owning their own learning
and
2 - digging in deep instead of just skimming around on the surface.
How do we combine them?
Yesterday's post (Real "Hands-On" Learning) was about making sure that when a child confronts something new, they know
(1) it can be worked with — changed, played with, experimented with, altered, extended, turned upside down,
(2) he is capable of working with it, and
(3) he is allowed to work with it.
The first goes to experience. Has he had ample opportunity to explore materials, tools, experiences, places? Has he mostly been a passive observer, or has he been handed the building blocks of learning and allowed to play with them? Has he been given a significant period of playful exploration to learn what materials and tools can do? Has he been encouraged to play with new ideas and experiences — to literally incorporate them into his play?
The second goes to self-knowledge. For a child to become a self-confident thinker and learner, he needs ample time to develop the skills of self-directed learning through play, exploration, experimenting, building, making, sharing ideas, asking questions, and solving problems. A child who has a long history of being a scientist, artist, explorer, writer, actor, storyteller, teacher, student, organizer, etc., will continue to develop those talents as he grows and as his interests become more sophisticated.
The third goes to family culture. Is knowledge something that children are encouraged to build themselves? Do they have input into what is studied and how? Are their ideas respected? Are they co-constructors of the curriculum? Are they used to getting their hands dirty with whatever is in front of them? Is yours a culture of play, exploration, and curiosity? Are mistakes accepted as the norm so that fear of failure is replaced with determination to succeed? Is learning seen as static — a fact is a fact, memorize it and spit it back — or malleable — here is some knowledge to experiment and build with?
How do we combine that idea with letting children lead, following their own interests, with the idea of staying in one place long enough to dig in deeply? If they're in charge, doesn't that mean they can skim to their hearts' content?
We curate their experience.
This is a negotiated curriculum, a shared and mutually respectful learning realtionship between learning mentor and child. Each of you plays a part in building something important — both a long-term project and, more important, a successful self-directed learner.
How do we curate their experience?
We create the space in which they work. We make the time for them to work. We give them our focused attention and support.
We draw them back, gently, resolutely, to their own ideas and questions so that these important things aren't lost and forgotten. We put up a bulletin board, help gather research materials and constructions/drawings into one place, talk about our project and share it with others.
We name what we are doing so that it stands out as something meaningful. We are working on a project; we are studying this. We are learning about it; we are teaching others what we learn. We honor meaningful work because it is something important to us.
The work that the children do is incredibly important, but our work is equally important. We create the circumstances under which they can manage and direct their own learning. We help them remember what they wanted to know and what they intended to do — their unfinished plans. We get them the materials they need — or supply a budget and a ride so they can get them themselves. We ask good questions. We listen. We help them articulate their own questions and figure out how to find their answers. We celebrate their work so that they know it is important. We invest space, time, and attention.
The child's role is active — playing, exploring, reading, writing, drawing, painting, building, constructing. But the learning mentor's role is just as active. You are engaged, talking, thinking, drawing, photographing, listening, supporting, watching, asking, exclaiming, sharing — and you're also doing and sharing your own meaningful work. You show your children what it means to be engaged and interested and working with knowledge. You show them what it means to connect with community and share questions and answers. You make your own learning — your small wins AND your mistakes — visible. You are a true co-learner and a true collaborator.
When their attention wanders (and when the world constantly peppers them with distractions), your focus helps gently draw them back to their own interests, questions, and unfinished plans.
You not only help steer them back to the questions and ideas they haven't fully examined, you create a supportive learning environment that helps accomplish that same goal. Work space, bulletin board, books and artifacts, xeroxes and sketches — the environment also helps gently remind them of the work they are doing.
Each of you plays a vital role.
He has interests. You create an environment that reflects them and supports independent exploration.
He has questions. You help him keep track of them and find his own answers.
He gathers facts. You help him put them into a larger context and see their relationship to one another.
He has ideas. You help him explore and articulate and share them.
He has plans. You help him make them happen.